Associates Plus
Essentials & More
Get the Basics Down — Then Kick it Up a Notch!
The Associates Plus course is ideal for attendees who want to develop insole fabrication and grinding skills, better liner and shell modification skills, and snowboard-specific snowboard bootfitting techniques but aren't quite ready for the Master's curriculum. Get the basics of bootfitting down in the Associates program and then kick it up a notch with a second day of intensive skills-building. After completing the Associates program on Day One, Plus attendees spend the following morning in a concentrated hands-on workshop session that will give them the expertise and confidence to jump right into the technical bootfitting fray. In the afternoon, Plus attendees join with Masters attendees in three, one-hour sessions of their choosing.
Associates Plus also gives those attendees who need to "wait for their ride" to finish day two of a Master's Course the opportunity to put their time to productive use.
Early-Bird Tuition Fee: $460 / Standard Tuition: $510
Early bird discounts end 14 days prior to event
+ Register Today!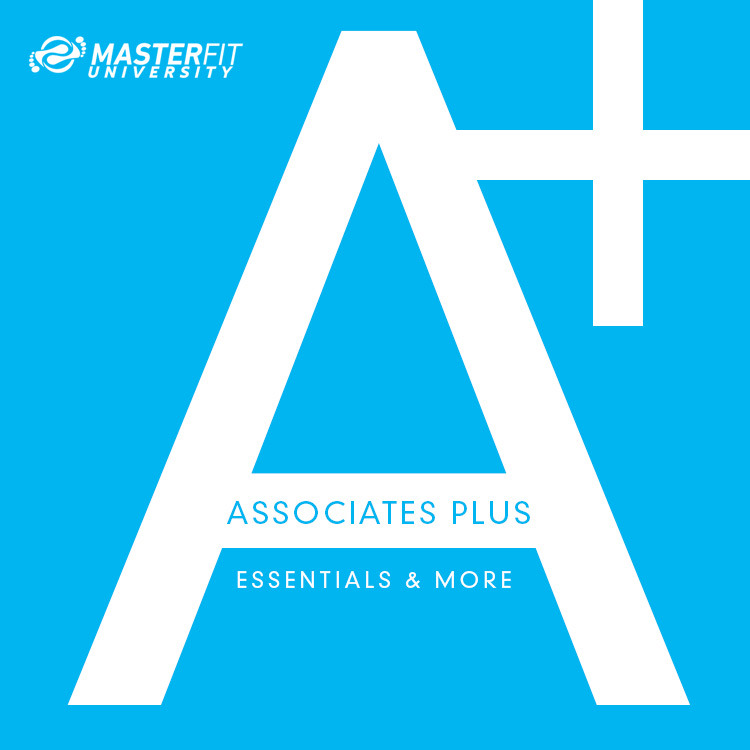 Course Curriculum
DAY ONE
Day One is spent in the Associates course.
DAY TWO
AM SESSIONS – attendees select a three-hour intensive workshop of their choice. This new, focused workshop format allows for the sort of in-depth and hands-on training experience participants have been requesting. Choose from one session below:
Basic Custom Footbed Fabrication. Basic level attendees build at least one complete pair and receive instruction in both non-posted and fully-posted custom footbed styles for ski and snowboard.
Basic Boot Liner and Shell Modifications. Basic level attendees practice common liner mods, shell grinds and shell stretches using a variety of different tools and methods.
PM SESSIONS – In the afternoon, attendees choose three, one-hour skills-development sessions from a variety of topics. This gives attendees the opportunity to layer additional instruction onto their morning intensive workshops. Afternoon sessions topics vary by venue, depending on staff, but may include:
STANCE ALIGNMENT
Monster Garage Stance
A discussion of what constitutes good balance in skiing and how ski boot and binding geometry affects that. This session focuses on understanding how a skier's biomechanics and range-of-motion may cause imbalance and how equipment can be modified to better match the gear to a skier's stance needs. Includes a survey of a variety of assessment tools from low-brow to high-tech.
Stance Assessment and Mods
An A-to-Z demo of stance alignment assessment protocol on an active participant (bring your boots!) highlighting ground-up basics of "inside the boot" changes for foot and lower leg balance as well as "outside the boot" modifications like canting and binding delta alterations. A good question and answer session with ongoing interaction between instructor, mock-customer and observers. Assessment tools used will vary with assigned instructor.
Boot Sole Planing, Plating & More
This application-specific session that focuses on the nuts and bolts of boot sole modification for a variety of applications, from stance alignment to performance, has been a perennial favorite. Understanding the tools of the trade and how they are used—jointers, routers, toe- and heel-spring sanders—is key, as is a knowledge of modern short-cuts and specialized tricks and products. A great follow-up for those taking part in the Race Dept. Boot Service a.m. session.
SALES AND ASSESSMENT
'Till the Pig Squeals!
A tactical approach to selling boots and accessories for maximum profit—this workshop takes universal sales techniques and applies them to the specialty snowsports reality. Led by veteran sales guys and gals who know how to extract every dollar possible from customers and still have them leave smiling and telling their friends all about it. A great refresher for old salts and "required reading" for snowsports sales rookies.
Stump Da Chumps
A "group participation" assessment game that puts instructors and attendees into the mix of an assessment rotation where one "client" is assessed by several different "assessors" in a row, with each new assessment being performed without the benefit of knowing what the previous bootfitter found—a fun and instructive session for developing better assessment techniques and a more trained "eye" for common red flags as well as more nuanced issues.
The Business of Bootfitting
This presentation is a must for any shop owner or manager who is looking for every advantage when it comes to stimulating growth and maximizing revenue streams. Learn how to use bootfitting services as a profit center and as a way to leverage higher margin sales and increase retail action in other departments. Hone tactics for competing with online retailers, developing smart local and social media marketing programs as well as streamlined buying for better sell-through.
Forefoot Academy
A focused look at how the biomechanics and ranges-of-motion in the forefoot affect balance, fit and performance in ski and snowboard boots—and the footbed fabrication techniques that can help improve it. Assessment techniques specific to forefoot and first/fifth-metatarsal position and range-of-motion are covered.
BOOT MODIFICATIONS
Basic Shell and Liner Modifications
An hour of coaching on the fundamentals of flex shaft (Foredom) grinding of shells and heat stretching using ball-and-ring presses and hydraulic and pneumatic ram-cylinder style tools for creating room for bony prominences or increasing width. Covers the basics of using external pads on liners for improved fit. Lots of hands-on practice with a focus on the basics.
Advanced Shell and Liner Modifications
Participants can choose whether to focus on a more difficult shell modification (like a toe length stretch, a midfoot bump upstretch or a combined inside ankle and navicular stretch) or a tricky liner modification involving a "surgical excavation," or receive helpful critical feedback on a variety of shell and liner modifications selected by the attendee. These may be split into two separate sessions for shell and liner depending on group size and goals.
Race-Based Performance Modifications
Learn tactics for softening or stiffening flex, reducing cuff height and changing flex trajectory—these are great techniques for any bootfitter's tool box, regardless of his or her race athlete clientele. A good add-on session for those who took part in the Race Dept Boot Service session.
Intuition (full-thermo EVA) Liner Molding Protocols
Masterfit University partner Intuition provides spiral-wrap and traditional tongue style liners for this step-by-step demonstration and focused practice session geared toward efficient and successful (the first time!) EVA liner molding. Bring your boots—we'll need a victim!
Snowboard-Specific Modifications and Repairs
Fundamentals of modifying bindings and boots for better fit—common liner work and outerboot stretches as well as binding adjustments that can make the difference between doable and totally dialed. Also covers typical repair procedures for lace systems, Boa reels, and ladder straps. Good, basic info for anybody who helps snowboard customers in their shop.
Plastico!
An examination of current boot plastics—understanding plastics "family" traits and trade names as well as how to identify and properly modify them. Guidelines and specs for grinding and stretching as well as a round-up of the upcoming season's "custom-technology" shell protocols.
CUSTOM FOOTBEDS
Advanced Footbed Fabrication Techniques
Focuses on metatarsal pad construction, accommodative extrinsic forefoot posting for specific applications, top-covering tactics and heater install tips.
Footbed Tutorial
A needs-based one-on-one help session for those wanting extra coaching with full-posted custom footbed fabrication. Do-overs, re-fits, and additional time for understanding the process are key elements in this workshop.
Tactics for Clean Lines & Low-Volume Boots
A simplified approach to custom footbeds' top-line shape and how to reduce width for interfacing in low-volume footwear like race boots, hockey skates or cycling shoes.
ALTERNATIVE APPROACHES
The Strange & Unusual
A series of bootfitting case studies involving "challenging" foot types supported by interesting photo documentation and a review of problem-solving tactics. Take your toolbox to a higher-level, or at least a weirder one.
Outside the Box Balance
Take the essential biomechanics of fixed-foot snowsports and assessment methods associated with them and expand outward, into other sports and activities. Find ways to leverage your snowsports bootfitting acumen in your shop's other seasons and services.
Women's SpeciFit
Women's bootfitting needs don't end with simply softer flexes and lower cuff heights. Explore the anatomical differences as well as gender-specific needs and tactics for getting boots right for your customers of the fairer sex. Led by our resident double-x chromosome and Australian Podiatrist instructor, Sam Tischendorf and other guest instructors, by region.
Early-Bird Tuition Fee: $460 / Standard Tuition: $510
Early bird discounts end 14 days prior to event